Nitro Circus - You Got This Tour on 11/12/2021
Date/Time:
Fri, Nov 12 2021 at 7:00 PM
Event:
Nitro Circus - You Got This Tour
Event Info:
Venue:
2021 Nitro Circus
Move your cursor over the venue image to check ticket availability.
Clicking on the

icon will allow you to view/select seats.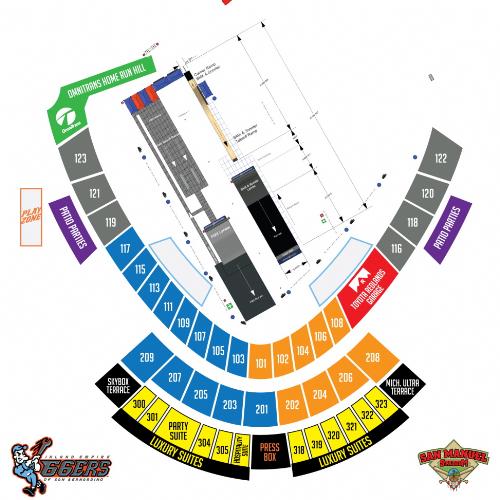 The stunts performed in Nitro Circus Live are among the most dangerous in the world. When athletes are attempting insane stunts 40 feet in the air over a 75-foot gap, the weather conditions have to be perfect as the onset of rain, dew, wind or other factors could be fatal. That's why we are reserving one additional day, November 15, as a possible alternative show date in case we need to reschedule. When you buy your ticket, please make sure that you are available on the reserve day in case we have to use it for a rescheduled show. If we do, there are no refunds. By proceeding with the purchase, you are agreeing to the terms and conditions of the event including the Refund Policy. Full terms and conditions can be found at NitroCircus.com.
Inland Empire 66ers
San Manuel Stadium Events
280 South E Street
San Bernardino, CA USA 92401
909-888-9922