2021 Long Bay Symphony on 5/7/2021
Date/Time:
Fri, May 7 2021 at 7:00 PM
Event:
2021 Long Bay Symphony
Move your cursor over the venue image to check ticket availability.
Clicking on the

icon will allow you to view/select seats.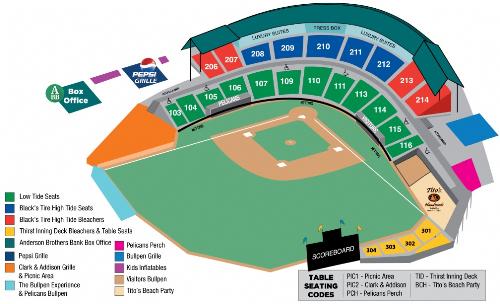 ALL SALES ARE FINAL
Thank you for your ticket purchase from the Myrtle Beach Pelicans ft Long Bay Symphony. This email contains a copy of your receipt as well as information you may need to know before attending this event. Thanks again and we look forward to seeing you at TicketReturn.Com Field at Pelicans Ballpark!
Parking
The Pelicans offer FREE PARKING. Ballpark parking lots open two hours prior to game time. All general parking, including those with handicapped permits and those holding red season ticket holder parking passes, must enter off of Grissom Parkway. NEED ASSISTANCE? Should you need special assistance, please notify a member of the Parking Crew, and we will make every effort to accommodate you for assistance getting from your car into the ballpark. The Pelicans Park handicapped lot conforms to South Carolina law and ADA regulations. Only those with properly displayed hang tags or license plates will be permitted into designated handicapped spaces. For additional information about Pelicans Ballpark, click here to view "Pelicans Ballpark from A to Z".