NITRO CIRCUS on 6/19/2018
Date/Time:
Tue, Jun 19 2018 at 7:00 PM
Event:
NITRO CIRCUS
Event Info:
Move your cursor over the venue image to check ticket availability.
Clicking on the

icon will allow you to view/select seats.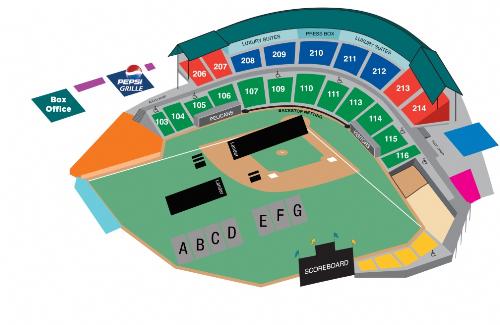 Nitro Circus fans can also get up close and personal with the athletes with the all-new Nitro VIP Club Package. In addition to premiere seats, VIP Club pass holders will have a chance to take a behind the scenes look at the show with an exclusive pre-show track walk. VIP Club Pass holders also have the opportunity to meet some of the riders during an autograph signing session, receive a souvenir poster and get a chance to win cool Nitro Circus swag! All P1 tickets are considered VIP, so get yours TODAY
IMPORTANT TICKET INFO-The stunts performed in Nitro Circus Live are amongst the most dangerous in the world. When athletes are attempting insane stunts 40 feet in the air over a 75 foot gap, the weather conditions have to be perfect as the onset of rain, dew, wind or other factors could be fatal. That's why we are reserving one or more reserve days as possible show dates in case we need to reschedule. When you buy your ticket, please check our website or ask your ticket seller for the dates of the reserve day(s) for the show you are interested in and, when you buy, make sure that you are available on the reserve day(s) too in case we have to use them for a rescheduled show. If we do, there are no refunds. By proceeding with the purchase, you are agreeing to Nitro Circus' terms and conditions, which are located on our website at http://nitrocircus.com/ticket-terms-and-conditions-for-the-nitro-circus-live-north-american-tour-2018/ including the reserve day policy. Thanks for reading and enjoy the most spectacular show you'll ever witness! Also, thank you for your purchase and we look forward to seeing you at TicketReturn.Com Field at Pelicans Ballpark for NITRO CIRCUS
Your Tickets
You have several options for accessing your tickets!

Mobile: Go paperless! Access your ticket on your mobile phone. Show us your phone at entry and we'll just scan the bar code on your phone.
Print at home: Print your tickets at home or work before you come.
Will Call: Pick your tickets up at Will Call. If you choose to have your tickets waiting for you at Will Call we recommend that you pick them up the day before NITRO CIRCUS at the main Box Office. This will help to expedite your trip into TicketReturn.Com Field at Pelicans Ballpark! Will Call is located next to Gate 3.

Stadium Parking
The Pelicans offer FREE PARKING. Ballpark parking lots open two hours prior to game time. All general parking, including those with handicapped permits must enter off of Grissom Parkway. NEED ASSISTANCE? Should you need special assistance, please notify a member of th e Parking Crew, and we will make every effort to accommodate you for assistance getting from your car into the ballpark. The Pelicans Park handicapped lot conforms to South Carolina law and ADA regulations. Only those with properly displayed hang tags or license plates will be permitted into designated handicapped spaces.

Connect with the Pelicans
Enhance your game day experience with the MiLB Inside the Park App. Get game updates, view the night's promotional line-up, share your game day photos on social media, and more!

Follow every game live with stats, scores, standings, and more on the MiLB First Pitch App. Visit milb.com/mobile to download either app for your iPhone, iPod touch, iPad, or android device. iPhone users with an MiLB.tv subscription can also watch on the go with the MiLB First Pitch App.

For additional information about Pelicans Ballpark, click here to view "Pelicans Ballpark from A to Z".



No Outs
Myrtle Beach Pelicans
NITRO CIRCUS
1251 21st Avenue North
Myrtle Beach, SC USA 29577
877-918-TIXX
info@myrtlebeachpelicans.com