Anthracite Fields on 4/1/2017 Tickets
Date/Time:
Sat, Apr 1 2017 at 7:30 PM
Event:
Anthracite Fields
Move your cursor over the venue image to check ticket availability.
Clicking on the

icon will show you a photograph from that part of the venue.

Clicking on the

icon will allow you to view/select seats.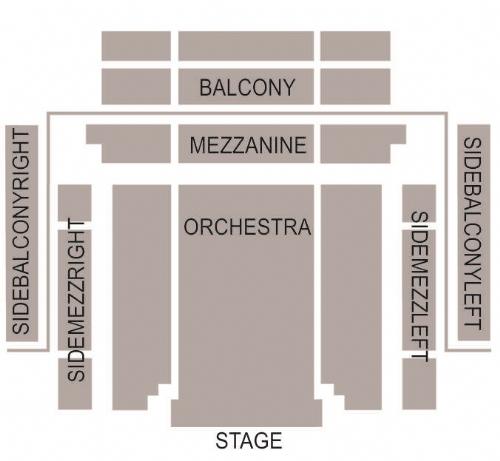 ORDER CONFIRMATION If you do not receive a confirmation (in the form of a confirmation page or email) after submitting payment information, or if you experience an error message or service interruption after submitting payment information, it is your responsibility to confirm with the Campus Box Office whether or not your order has been placed. Only you may be aware of any problems that may occur during the purchase process. The Campus Box Office will not be responsible for losses (monetary or seat location) if you assume that an order was not placed because you failed to receive confirmation. If you use any Spam blocking software, tickets@bucknell.edu will need to be added to your list of allowed recipients. Failure to do so will result in your order confirmation not being delivered. Confirmation emails that are rejected due to Spam blocking software will not be automatically resent. ACCESSIBLE SEATING Accessible seating locations (i.e., wheelchair spaces and companion seats) are intended for use by individuals with disabilities and their companions. By purchasing tickets for accessible seating through Bucknell's Campus Box Office, you represent that you or a member of your party has a disability that requires the accessible features provided by the seating locations being purchased. The Campus Box Office may investigate the potential misuse of accessible seating where there is good cause to believe that such seating has been purchased fraudulently. In appropriate cases, the Campus Box Office may, in its sole discretion, cancel an order for accessible seating that it believes to be fraudulent or improper, or reserves the right to relocate said seating to a location of their choosing. By clicking on the "Continue" button, or otherwise using this website, you agree to these terms. CONVENIENCE CHARGE
A $1.50 per ticket charge will be assessed at checkout.
NOTICE
All sales are final. No refunds. No exchanges. Check date and seat locations very carefully before purchasing. Administration reserves the right to refuse admission or eject any person whose conduct is deemed to be disorderly. Alcohol is prohibited.
Bucknell University
2016-2017 Weis Center Series
1 Dent Drive
Lewisburg, PA 17837
570-577-1000
tickets@bucknell.edu