Eastern Division vs. Western Division vs Eastern League Home Run Derby on 7/14/2020
Date/Time:
Tue, Jul 14 2020 at 6:30 PM
Home Team:
Eastern Division vs. Western Division
Opponent:
Eastern League Home Run Derby
Venue:
NYSEG Stadium
Move your cursor over the venue image to check ticket availability.
Clicking on the

icon will show you a photograph from that part of the venue.

Clicking on the

icon will allow you to view/select seats.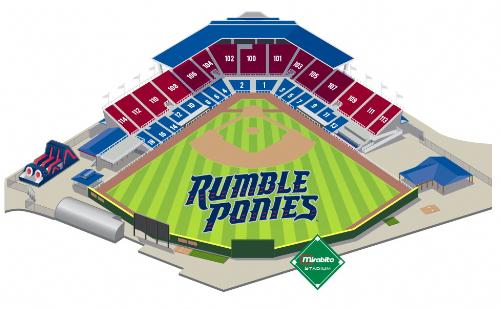 The holder of this ticket assumes all risk and danger arising from the action of players on the field or from other stadium events, whether occurring prior to, during, or after the game. Management reserves the right to revoke license granted by this ticket. Eastern League rules prohibit bottles, cans, food, containers, and alcoholic beverages from being brought into the stadium. This ticket may not be resold or offered for resale in a manner or at a price in violation of any federal, state, or local law or regulation. Rain Check Policy: In the event that 5 innings of one game are not played (4 1/2 innings if the home team is winning) this ticket may be exchanged for any 2020 Rumble Ponies regular season home game of equal or lesser value, subject to availability. There are no refunds for postponed games. A complimentary ticket is neither refundable or exchangeable. The Club shall have the unrestricted right and license to use the ticket holder's likeness as included in any broadcast (live or recorded) telecast or photograph taken in correlations with the game. The holder grants permission to the Club to utilize the ticket holder's image or likeness incidental to any live or recorded video displays or other transmission or reproduction, is whole or in part of the game which this ticket grant admission for any purpose whatsoever including commercial use.