Charlotte 49ers Women's Basketball vs Louisiana Tech on 1/30/2020
Date/Time:
Thu, Jan 30 2020 at 7:00 PM
Home Team:
Charlotte 49ers Women's Basketball
Opponent:
Louisiana Tech
Event Info: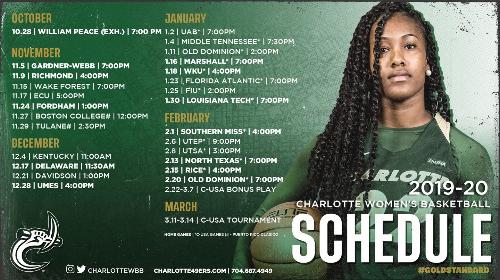 SPECIAL NOTES:
Gates will open one hour prior to the start of the game.
Interested in bringing a group out to a game? Tickets start at $1 for groups of 10 or more! Tickets must be purchased in advance of game day in order to receive the discount. For any questions, please contact the ticket office at 704-687-4949.
49er Gold Cards are available for purchase which provides you with a season ticket to all of the 2019 Regular Season Home Games! Your Gold Card will also get you into all of the home Men's Soccer, Women's Soccer and Volleyball games during the 2019-20 regular season! Click here to purchase today!