Arkansas Travelers - 2019 Season vs Amarillo Sod Poodles on 8/24/2019
Date/Time:
Sat, Aug 24 2019 at 6:10 PM
Home Team:
Arkansas Travelers - 2019 Season
Opponent:
Amarillo Sod Poodles
Venue:
Arkansas Travelers
Move your cursor over the venue image to check ticket availability.
Clicking on the

icon will allow you to view/select seats.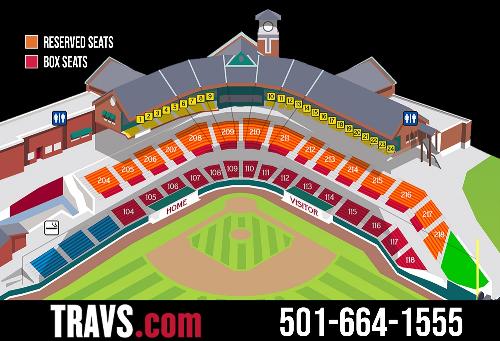 Please check all orders very carefully for correct event date(s) and seat(s) quantity and locatoin. Online ticket purchases may be printed at home by signing into www.ticketreturn.com. Wheel chair accessible seating may be purchased by calling our ticket office. Folding chairs and blankets are permitted with Berm GA tickets. No outside food or drink. The holder of this ticket assumes all risk and danger incidental to the gam eof baseball or event for which the ticke tis used, whether occuring prior to, during or subsequent to the actual playing of the game, including specifically, but not excuslively, the danger of being injured by thrown or batted balls, thrown bats or damage to personal property, in or adjacent to the ballpark, and abgrees that participating clubs, their agents and players are not liable for injuries or losses resulting from such causes. The holder of this ticket acknowledges and hereby agrees that the managment declares itself not responsible for and assumes no liability arising from fire, theft damage to or loss of any vehilcle or article left therein. In addition, it is the right of management to use any likeness recorded prior to, during or after the game.
Arkansas Travelers
Arkansas Travelers - 2019 Season
Dickey-Stephens Park
North Little Rock, AR USA 72114
501-664-1555