2018 Sugar Land Holiday Lights on 11/30/2018
Date/Time:
Fri, Nov 30 2018 at 6:00 PM
Event:
2018 Sugar Land Holiday Lights
Event Info: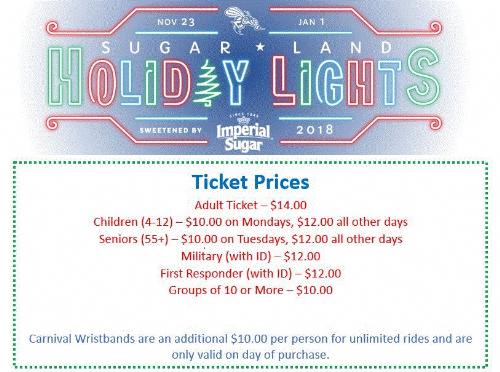 Celebrate the season in the most magical way at the 5th annual Sugar Land Holiday Lights. This sparkling wonderland features more than 2.5 million lights and numerous themed displays at Constellation Field, located in Sugar Land, TX, (15-20 miles from Houston). You can also get some holiday shopping done with a variety of vendors, enjoy great food, and meet Santa! It's fun for the young, and the young at heart! Come make a holiday memory with us!
TONIGHTS SPECIAL: Couples Night & Murder Mystery Dinner - Who did it??? Grab your significant other and head to the Insperity Club at Constellation Field for a Murder Mystery dinner. While trying to solve the mystery, you will get to dine on a delectable buffet style meal from the menu of Legends Hospitality, with a cash bar also available. The dinner will begin at 6:30pm, and will last approximately 2-3 hours. Couples will be able to take part in the event for $130, with individual tickets priced at $67.50. There will be several other couple-friendly attractions as well on this night, featuring two-for-one S'mores, two-for-one hot chocolates and two tickets to Holiday Lights for $20. What better way to spend a romantic winter evening than under the lights at Constellation Field!
Sugar Land Holiday Lights is open daily from November 23rd to January 1st. Check out the calendar for special celebrations and discounted events.
HOURS OF OPERATION:
Sunday through Thursday - 6:00pm - 9:00pm (last entry @ 8:30pm)
Friday through Saturday - 6:00pm - 10:00pm (last entry @ 9:30pm)
Christmas Eve, Christmas Day, New Years Eve, & New Years - 6:00pm - 10:00pm (last entry @ 9:30pm)
TICKET PRICES:
General Admission - $14.00**
Groups (10 or more) - $10.00 (only available in the TDECU Ticket Office)
Children 3 and Under - Free
**$2 discount available with Military ID, seniors (55 and over) and children (4-12). All discounted tickets must be purchased at the TDECU Ticket Office.
Want to raise money for your organization and do it in a fun way? Your organization and Sugar Land Holiday Lights can be great partnership...and we make it easy for you to earn money! Each organization is given $2 off vouchers and a unique promo code to redeem at the ticket office. Every time a ticket is purchased with your voucher or code, we donate $2 to your organization! For more information, please contact Jennifer Schwarz at 281-207-9136 or jschwarz@sugarlandskeeters.com.
Vendors and Sponsorship opportunities are available. For more information, please contact Russell Wohldmann at 281-207-9159 or rwohldmann@sugarlandskeeters.com.
Sugar Land Skeeters
2018 Sugar Land Holiday Lights
Constellation Field
Sugar Land, TX USA 77498
281-240-4487
jschwarz@sugarlandskeeters.com