Reno 1868 FC Playoffs vs OKC Energy FC on 10/21/2017
Date/Time:
Sat, Oct 21 2017 at 5:25 PM
Home Team:
Reno 1868 FC Playoffs
Opponent:
OKC Energy FC
Event Info:
Venue:
Greater Nevada Field
Move your cursor over the venue image to check ticket availability.
Clicking on the

icon will show you a photograph from that part of the venue.

Clicking on the

icon will allow you to view/select seats.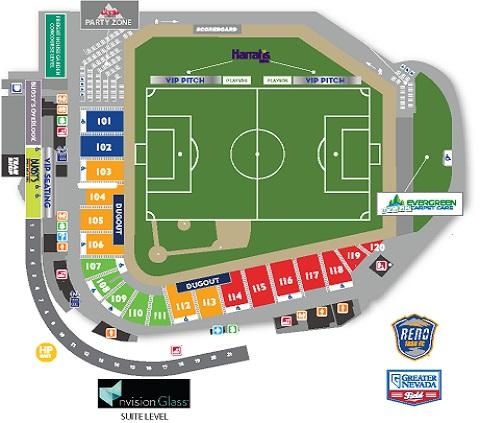 Genearal Admission can be purchased over the phone or in person at the Greater Nevada Field Ticket Office.
Any unplayed games will be refunded.
Help with Accessible seating can be done by calling the Ticket Office at 775-334-7000 or visiting the ticket office during business hours.
Ticket Office Hours (non game day):
Fridays: 10am to 5pm Pacific Time and Game Days 10:00am until after half-time.
All ticket sales are final, non-refundable and non-exchangeable.
Reno Aces Baseball
Reno 1868 FC Playoffs
250 Evans St.
Reno, NV USA 89501
775-334-7000
tickets@renoaces.com