2017 Louisville Bats vs Columbus Clippers on 5/21/2017 Tickets
Date/Time:
Sun, May 21 2017 at 2:05 PM
Home Team:
2017 Louisville Bats
Opponent:
Columbus Clippers
Event Info:
Move your cursor over the venue image to check ticket availability.
Clicking on the

icon will show you a photograph from that part of the venue.

Clicking on the

icon will allow you to view/select seats.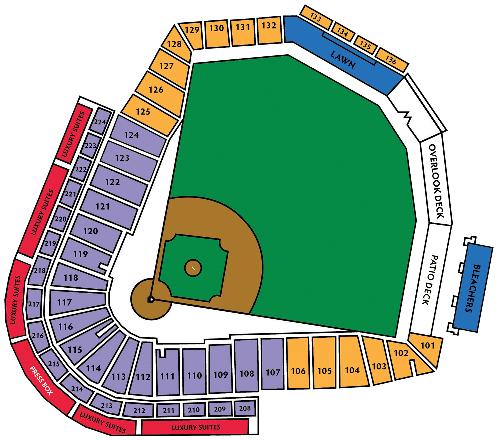 WJIE FAITH CONCERT:
Postgame WJIE Faith Concert featuring Building 429. Free admission with game ticket.

CLUB SEATS:
Club seats (200-level) are wider, padded seats that include $5 in loaded value that can be used at concession stands and the Team Store. Club seat holders also have access to the climate-controlled Club Level bar and lounge.

GRAND SLAM TICKET:
Thorntons Grand Slam Ticket ($31, $25 or $22) includes game ticket, Bats hat, game program, a hot dog and Pepsi. For redemption, please bring your game ticket to the kiosk behind Section 115.

BOBBLEHEAD TICKET:
Bobblehead ticket includes game ticket and whichever bobblehead chosen during purchase process: Todd Frazier HR Derby, Billy Hamilton/Vince Coleman Men of Steal or Ted Power.

LIMITED MOBILITY:
Wheelchair and limited mobility seats are available by calling the Bats office at 502-212-2287 (press 1).

KIDS, SENIOR, MILITARY & GROUP DISCOUNTS:
Children 12-and-under, adults 65-and-older, military members with proper ID, and groups of 20 or more receive $2 off regular and Grand Slam prices. Please contact the Bats office at 502-212-2287 (press 1) to inquire about these special prices.

LOUISVILLE SLUGGER FIELD INFO:
-Children two-and-under do not require a ticket unless you would like a seat for them.
-Seat 1 is always to the right of the section from your seat as you look at the playing field. For instance, in Section 110, seat 1 is closest to Section 109.
-Row A, or the lowest letter of the alphabet, is always closest to the playing field. Row V or Z is the last row, or furthest away from the playing field, in each section.
-The overhang starts in Row S in Sections 109-123 and covers the remaining rows in those sections.
-For an evening game, all seats in Sections 116-123 & 216-223 will be shaded, regardless of the overhang. Club seats (200 level) also have access to the climate-controlled Jack Daniel's Lounge. The lounge does not offer a view of the playing field.
Louisville Bats
Louisville Bats
Louisville Slugger Field
Louisville, KY USA 40202
855-228-8497
kreh@batsbaseball.com