Date/Time:
Mon, Jul 4 2022 at 6:05 PM
Event:
Team USA
Venue:
Truist Field
Move your cursor over the venue image to check ticket availability.
Clicking on the

icon will show you a photograph from that part of the venue.

Clicking on the

icon will allow you to view/select seats.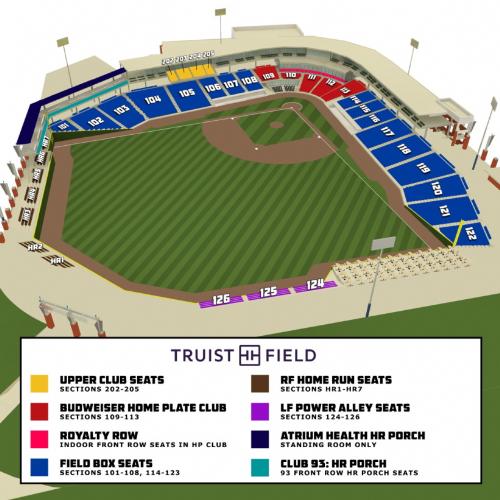 ATTENTION
The Knights, in consultation with Atrium Health and the Mecklenburg County Public Health Department, have developed comprehensive health and safety protocols for this facility. This includes deep cleaning of all concourse touchpoints, concession areas, and restrooms, social distancing markers. Please note that any public space where others are present allows for an inherent risk of exposure to Covid-19 and we cannot guarantee that you will not be exposed during your visit. According to the CDC, senior citizens and those with underlying medical conditions are more vulnerable to the virus.
IMPORTANT GAME & TICKETING INFORMATION
All Firework Shows - Berm seating, Sections 124-126 and HR1-HR5 are required to evacuate the area before firework shows can begin.
Child Admittance - Truist Field offers complimentary admission to children 2 years of age and under. However, children under the age of 2 without a ticket are required sit in their parent or guardian's lap and not occupy an additional seat. Promotional giveaway items are only available for ticketed guests.
Day of Game Pricing - Pricing will increase on the day of the game.

Ticket Type Descriptions

Seat in light blue color are designated for individuals in a wheelchair. These specific locations do not include a fixed seat.

Handicapped Accessible Seating – For more information on ADA seating, please call the Truist Field Ticket Office (704-274-8282). We are always happy to help!

Upper Club Seats – All Upper Club tickets include an upscale all-you-can-eat buffet and unlimited soft drinks in the Diamonds Direct Luxury Lounge. The buffet is served for (2) hours, beginning when the gates are opened to Truist Field.

Home Plate Club Seats – All Home Plate Club tickets include access to the Budweiser Home Plate Club and Diamonds Direct Luxury Lounge (food & beverage not included).

Club 93 - Reserved row of seats located along the front row of the Home Run Porch. All Club 93 tickets also include access to the Budweiser Home Plate Club and Diamonds Direct Luxury Lounge (food & beverage not included).

Home Run Porch – Ticket type provides general access to second level Home Run Porch in right field. Please note that this ticket type does not include a reserved fixed seat location. Ticket also provides access to drinkrails around the concourse and general admission access to grass berm in left field.

Berm/SRO - Ticket type provides general admission access to grass berm in left field and drink rails around the concourse. Please note that chairs of any type are prohibited from being brought into Truist Field, but blankets are welcome.

Convenience Charges - A $1.50 per ticket fee will be added at checkout