Nitro Circus Live: Good, Bad & Rad on 9/10/2022
Date/Time:
Sat, Sep 10 2022 at 7:00 PM
Event:
Nitro Circus Live: Good, Bad & Rad
Event Info:
Move your cursor over the venue image to check ticket availability.
Clicking on the

icon will show you a photograph from that part of the venue.

Clicking on the

icon will allow you to view/select seats.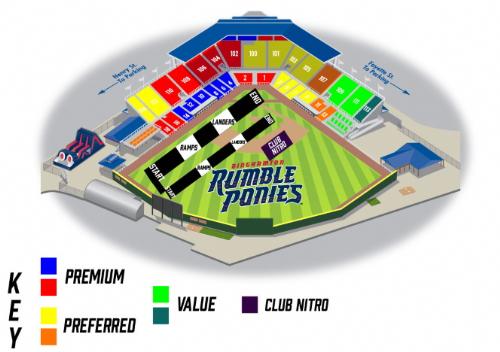 NOTE: THERE ARE NO REFUNDS AND NO EXCHANGES ON INDIVIDUALLY PURCHASED TICKETS. PLEASE DOUBLE CHECK ALL TICKETS BEFORE ENTERING ANY CREDIT CARD INFORMATION.
Nitro Circus is defined by good, bad and rad. Since its inception, this wild crew of action sports heroes has traveled the globe, fusing world's first tricks, bone-crushing fails and comedic moments to create not just a show, but an attitude. Nitro Circus: Good, Bad & Rad is a new tour built from the core, driven by unbelievable content, new athletes, and crazy contraptions like a flying lawnmower that fuel the sketchy, scary and cringe-worthy dangers of big-air action sports entertainment. This new show captures the camaraderie of thrill-loving daredevils who risk their lives pushing the limits, and the excitement they share with the crowd when greatness is achieved. Fans will have a deeper personal perspective, getting under the helmet to know their favorite athletes better than ever before. Audiences will also be blown away by incredible new entertainment features such as the Fun Box that will have them on their feet because otherwise they'd fall off the edge of their seat!
FAQ
Where is the event Located?
Mirabito Stadium is located at 211 Henry Street, Binghamton New York. Please follow event signage for additional directions once you get to the venue.
Can I buy tickets at the event?
Day-of tickets will be available for purchase but we encourage every fan to purchase tickets ahead of the event. We don't want you to miss the start of the show!
How long is the show?
The show is about 2.5 hours including intermission
What is Club Nitro?
For the first time ever, fans can get completely immersed in Nitro Circus Live with our all-new Club Nitro experience. Highlighted by a new on-field private lounge with all-inclusive food & beverages, exclusive athlete meet & greets, and the chance to be in the show, the Club Nitro experience puts your right in the heart of the action all night long! For more information on what's included, please head over to www.nitrocircus.com/clubnitro. Have questions about Club Nitro? Please email us at clubnitro@nitrocircus.com.
I want to bring my kids, what are the age limits to purchase tickets?
Children 3 years old and younger get in free with an adult ticket purchase provided they do not occupy a seat. Ages 4+ will need a ticket into the event.
What can I bring in the event? What is not allowed?
Personal items at the event that are allowed are: bags, blankets, and small hand-held cameras. Personal food, drink, alcohol, glass, firearms, professional grade cameras and umbrellas are not permitted into the event. Unsure what to bring in? Head over to bingrp.com for more specific information.
Do I have to pay for parking at the event?
Stadium parking will be $20.00 per car