New Hampshire Fisher Cats vs Hartford Yard Goats on 6/18/2021
Date/Time:
Fri, Jun 18 2021 at 6:35 PM
Home Team:
New Hampshire Fisher Cats
Opponent:
Hartford Yard Goats
Event Info:
Venue:
Northeast Delta Dental Stadium
Move your cursor over the venue image to check ticket availability.
Clicking on the

icon will allow you to view/select seats.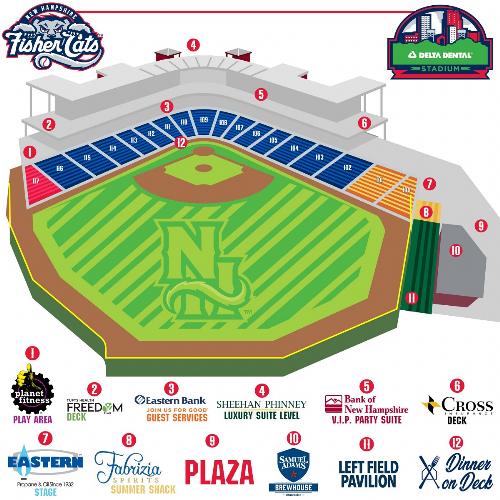 If you are looking to purchase tickets in a certain area of Delta Dental Stadium that is not available online, please call the New Hampshire Fisher Cats Box Office at 603-606-4141 to check on availability. Please head to https://www.milb.com/new-hampshire/ballpark/know-before-you-go/ to prepare for your visit to Delta Dental Stadium.
Important Game Information- Please Read
Fisher Cats Assurance Ticket Program:
The Fisher Cats Assurance Ticket is your insurance against "life happening". When you purchase a Fisher Cats Assurance Ticket you are purchasing a fully transferable ticket. This a great option if you think your plans or numbers may change, but you want to get great seats now. Your tickets are fully transferable one time to any other game at any time prior to or after the game, providing the ticket has not yet been used.
Entrance Times:

Sam Adams Brewhouse: 2 Hours prior to game time.
Party Decks, Luxury Suites, Dinner on Deck, Birthdays, and Seating Bowl for Season Ticket Holders: 1.5 Hours prior to game time.
Seating Bowl: 1 Hour prior to game time
Normal Box Office Hours:
Monday-Friday: 9:00am-5:00pm
Game Day Box Office Hours:
Sunday - Friday: 9:00am - End of Game
Saturday: 10:00am - End of Game
Reserved Parking Information
On sale date is TBD. Reserved Parking can be purchased for $10 plus fees per space online ($10 in person or over the phone) for any 2020 regular season home game, based on availability. This VIP Fisher Cats lot is the lot located closest to the stadium. (Will Call is not a recommended delivery option for Reserved Parking Passes unless you plan to pick them up in advance of the day of the game)
Handicapped Accessible Seating
* Please contact the Fisher Cats ticket office at (603) 641-2005 so that we may best accommodate your party.
Please Note:
* Tickets are Non-Exchangeable (except for assurance tickets) and Non-Refundable * Smoking is prohibited inside the ballpark * No outside food or beverage
Rain Check Privileges:
If less than 5 innings of a game is played (4 1/2 innings, if the Fisher Cats are ahead) any ticket to that game may be exchanged for one of equal or lesser value to any remaining regular season home game that season, based on availability.
On games with an Atlas Fireworks Show, sections 116 and 117 will be cleared late in the game to allow the fireworks show to take place.