2018 San Jose Giants vs Visalia Rawhide on 6/15/2018
Date/Time:
Fri, Jun 15 2018 at 7:00 PM
Home Team:
2018 San Jose Giants
Opponent:
Visalia Rawhide
Event Info:
Move your cursor over the venue image to check ticket availability.
Clicking on the

icon will allow you to view/select seats.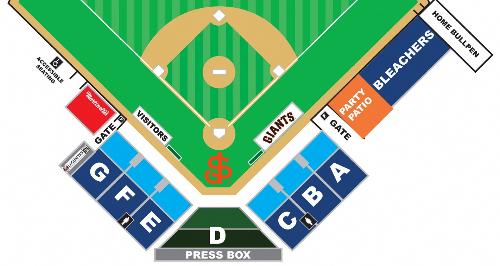 Special Event Ticket - Gyffindor Giants Scarf
- If you already have a ticket to the game, please contact the box office at (408) 297-1435 to upgrade your ticket to receive promotional item for $10.
- Please pickup your special event ticket item at the Alliance Community Corner right inside the main gate.
- Items are subject to availability.

Purchase tickets now as they go up $1 on the day of the game!

Save $18+ when buying 6 or more Box Seats with the undated Flex Plan.
Group discounts start at 10 people and can include Turkey Mike's BBQ.
To receive these discounts please call 408-297-1435 or email grouptickets@sjgiants.com.

San Jose Giants
2018 San Jose Giants
San Jose Municipal Stadium
San Jose, CA USA 95112
408-297-1435
RyanAnthony@SJGiants.com