2018 San Jose Giants vs Lancaster JetHawks on 5/13/2018
Date/Time:
Sun, May 13 2018 at 1:00 PM
Home Team:
2018 San Jose Giants
Opponent:
Lancaster JetHawks
Event Info:
Move your cursor over the venue image to check ticket availability.
Clicking on the

icon will allow you to view/select seats.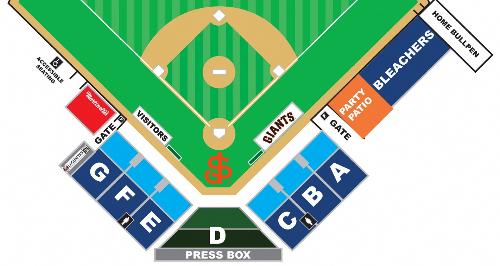 *PLEASE SEE DETAILS BELOW IF PURCHASING PUPS IN THE PARK TICKET:*
- Pups in the Park Liability Release Form must be filled out and turned in before entering the stadium.
- You may fill out the form in person upon entering the game at the Players Parking Lot entrance or you can visit the link below and fill it out beforehand to be turned in upon entering: http://www.milb.com/documents/1/0/0/272616100/Pups_in_the_Park_Liability_Release_Form.pdf
- There will be a special entrance at the Players Parking Lot for all Pups in the Park tickets.
- Must have at least 1 "General Admission Dog Ticket." Owner must have General Admission ticket to the game as well. Limit 1 Dog per person.
- Pups in the Park seating is in the Right Field Bleachers Section Only.
- Cannot bring dogs outside of Right Field Bleachers area and no outside human food is allowed.
- If you have any questions please contact the Box Office at (408) 380-4501.
Mother's Day Futures Club Buffet Includes:
- Seating in the left field Futures Club patio and bar areas only.
- There are tables and chairs in the bar area as well as limited patio seating in the front deck area. Seating is first come first serve.
- 60 minute buffet from 12:00pm to 1:00pm.
- The buffet will include brunch food, beer and wine for adults. For kids includes brunch food, water and Martinelli's apple juice.
- Kids will have unlimited access to the Family Fun Zone.
- Video board message to be displayed during the 4th inning. Email your video board requests to RyanAnthony@sjgiants.com
- If you would like to participate in our 1st annual Mother's Day Baseball Buddies where you get the opportunity to take the field with San Jose Giants players during the National Anthem please contact the Municipal Stadium box office at (408) 297-1435. The first 18 mother's to purchase package and call the box office will get to participate. Subject to availability.

Purchase tickets now as they go up $1 on the day of the game!

Save $18+ when buying 6 or more Box Seats with the undated Flex Plan.
Group discounts start at 10 people and can include Turkey Mike's BBQ.
To receive these discounts please call 408-297-1435 or email grouptickets@sjgiants.com.

San Jose Giants
2018 San Jose Giants
San Jose Municipal Stadium
San Jose, CA USA 95112
408-297-1435
RyanAnthony@SJGiants.com