2018 San Jose Giants vs Lancaster JetHawks on 5/12/2018
Date/Time:
Sat, May 12 2018 at 5:00 PM
Home Team:
2018 San Jose Giants
Opponent:
Lancaster JetHawks
Event Info:
Move your cursor over the venue image to check ticket availability.
Clicking on the

icon will allow you to view/select seats.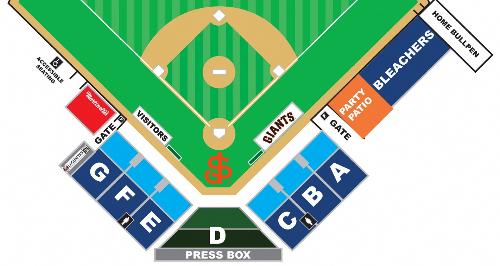 Star Wars Special Event Ticket Includes:
- Seating in general admission (with access to Future's Club during game)
- BBQ meal of your choice from Turkey Mike's BBQ
- One alcoholic or non-alcoholic beverage
- Early access into the game where you can take part in an exclusive meet and greet with Star Wars characters before the game from 3:00 - 4:00 PM
- For each ticket purchased you will receive an exclusive STAR WARS Koozie that you can pick up at the Alliance Community Corner right inside the main gate of the stadium (subject to availability).
- If you are a Full or Half Season Ticket Holder, please contact the box office at (408) 297-1435 to purchase this package at a discounted rate.
Purchase tickets now as they go up $1 on the day of the game!

Save $18+ when buying 6 or more Box Seats with the undated Flex Plan.
Group discounts start at 10 people and can include Turkey Mike's BBQ.
To receive these discounts please call 408-297-1435 or email grouptickets@sjgiants.com.

San Jose Giants
2018 San Jose Giants
San Jose Municipal Stadium
San Jose, CA USA 95112
408-297-1435
RyanAnthony@SJGiants.com