2018 Sugar Land Holiday Lights on 12/15/2018
Date/Time:
Sat, Dec 15 2018 at 6:00 PM
Event:
2018 Sugar Land Holiday Lights
Event Info: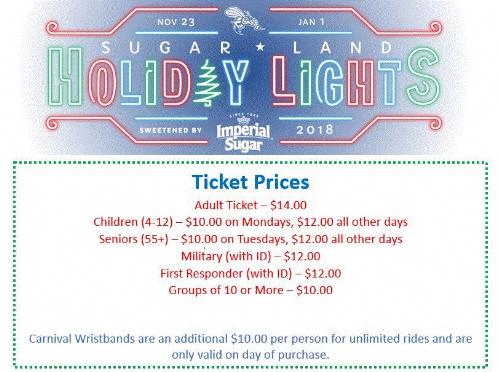 TONIGHTS SPECIAL: Boy Scout Sleepover - Don't worry, we didn't forget about our Boy Scouts of America! Come out to Sugar Land Holiday Lights on this special night to campout in the outfield, watch a movie, eat s'mores, earn a Sugar Land Holiday Lights patch and visit with Santa! For more information about this sleepover and other Boy Scout events at Constellation Field, please contact Sunny Okpon at sokpon@sugarlandskeeters.com or 281-207-9120.
Sugar Land Holiday Lights is open daily from November 23rd to January 1st. Check out the calendar for special celebrations and discounted events.
HOURS OF OPERATION:
Sunday through Thursday - 6:00pm - 9:00pm (last entry @ 8:30pm)
Friday through Saturday - 6:00pm - 10:00pm (last entry @ 9:30pm)
Christmas Eve, Christmas Day, New Years Eve, & New Years - 6:00pm - 10:00pm (last entry @ 9:30pm)
TICKET PRICES:
General Admission - $14.00
Seniors (55 plus) - $12.00
Children (4 - 12) - $12.00
Military/First Responders (with ID) - $12.00
Groups (10 or more) - $10.00
Children 3 and Under - Free
**DUE TO HIGH VOLUME, please print your tickets or have them available on your mobile device. Ticket Office lines may be long.
Want to raise money for your organization and do it in a fun way? Your organization and Sugar Land Holiday Lights can be great partnership...and we make it easy for you to earn money! Each organization is given $2 off vouchers and a unique promo code to redeem at the ticket office. Every time a ticket is purchased with your voucher or code, we donate $2 to your organization! For more information, please contact Jennifer Schwarz at 281-207-9136 or jschwarz@sugarlandskeeters.com.
Sugar Land Skeeters
2018 Sugar Land Holiday Lights
Constellation Field
Sugar Land, TX USA 77498
281-240-4487
jschwarz@sugarlandskeeters.com