Bowie Baysox vs Portland Sea Dogs on 8/4/2019
Date/Time:
Sun, Aug 4 2019 at 1:35 PM
Home Team:
Bowie Baysox
Opponent:
Portland Sea Dogs
Event Info:
Venue:
Prince George's Stadium
Move your cursor over the venue image to check ticket availability.
Clicking on the

icon will allow you to view/select seats.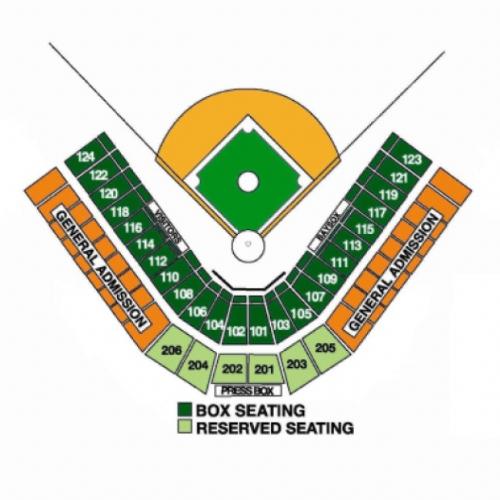 Welcome to the Home of the Bowie Baysox presented by Money One Federal Credit Union!
Celebrating our 27th season as a PROUD Affiliate of the Baltimore Orioles!

For ADA Accessible seating, please contact our Box Office at (301) 464-4865 during regular business hours.

In cooperation with Minor League Baseball's Copa de la Diversion series, the Baysox welcome you to the Cangrejos Fantasmas de Chesapeake! This series of four selected games is designed to welcome our Spanish speaking neighbors to beisbol at Prince George's Stadium with special uniforms and content. This year's dates are scheduled for May 19, June 30, July 21, and August 4.

En cooperación con la iniciativa de Minor League Baseball, "Copa de la Diversión" los Bowie Baysox le dan la bienvenida de los ¡Cangrejos Fantasmas de Chesapeake! Esta serie formada por 4 partidos a lo largo de la temporada ha sido diseñada en especial para que nuestros vecinos que hablan español disfruten de béisbol en el Prince George's Stadium con una temática divertida, uniformes especiales, mucho más. Las series de este año serán los días 19 de mayo, 30 de junio, 21 de julio y 4 de agosto.

It is Lauryn's Law Day! Join us as we shine a light on Suicide Prevention and Mental Health Awareness. Stay after the Baysox game for Celebrity Kickball!

Join us in the Bud Light Picnic Pavilion for our first ever Bull Roast & Crab Feast! For menu or to make your reservations, please contact Scott Rupp at (301) 464-4890. (Please note- Bull Roast & Crab Feast tickets MUST be pre-ordered no later than 3:00pm on Wednesday, July 31. Sorry- Tickets are NOT available once the deadline has passed. )

Gates open 12:30pm. Pre-game ceremonies begin approximately 1:00pm. Baysox game time is 1:35pm.

Please note: For the safety of our fans, protective see through netting has been installed from Section 115 on the first baseside through Section 116 on the third base side. In each section of the Ballpark, Row A is closest to the field with Row P/Q, being closest to the concourse.

Your tickets are valid for the game date that they are purchased for ONLY.

If you think that your plans may change, please consider adding ASSURANCE. Assurance will allow you to change the date of your tickets ONE time if for any reason you are unable to attend your initially chosen game. ASSURANCE must be added at the time tickets are first purchased and cannot be added after the transaction is complete. ASSURANCE is not refundable if it is not used.

Tickets purchased using a SPECIAL OFFER/PROMO CODE are valid for the game date they are purchased for ONLY and are not eligible for added ASSURANCE.

SAVE TIME AND MONEY by purchasing your tickets IN ADVANCE! Game Day pricing takes effect at 12:00 midnight the day of a scheduled game.

Parking is FREE!

NO OUTSIDE FOOD OR DRINK PERMITTED INSIDE PRINCE GEORGE'S STADIUM.

TICKETS ARE NOT REFUNDABLE ONCE PURCHASED.

Phone Sales end 4 hour prior to scheduled game time. Tickets may be purchased at our Box Office Windows through the Top of the 7th inning of today's game.

Tickets that are sent to "Will Call" more than 14 days prior to the event date will automatically be mailed to the address provided during the ordering process. Will Call tickets purchased less than 14 days in advance will be available for pick up at the Box Office Will Call on the day of the event. Please have photo ID available when picking up your tickets.

Print your tickets AT HOME! Your purchased tickets will automatically be sent to our Box Office Will Call. If you would prefer to print your tickets at home, select PRINT-AT-HOME under Ticket Delivery Options and bypass our Box Office on game day!

If you are using a SPECIAL OFFER/PROMO CODE please enter it above using ALL CAPITAL LETTERS (no spaces) and hit "submit" to see your offer. Special Offer/Promo Codes are available online ONLY.

For questions, please contact our Box Office at (301) 464-4865 during regular business hours.

PLEASE NOTE: A $1.50 per ticket web processing fee will be added at time of checkout.
Bowie Baysox Baseball
Bowie Baysox Baseball
at Bowie Baysox Prince George's Stadium
Bowie, MD USA 20716
301 805 6000