Flex Books/Kids Club vs Flex Books/Kids Club on 10/31/2019
Date/Time:
Thu, Oct 31 2019 at 7:05 PM
Home Team:
Flex Books/Kids Club
Opponent:
Flex Books/Kids Club
Venue:
Constellation Field 2018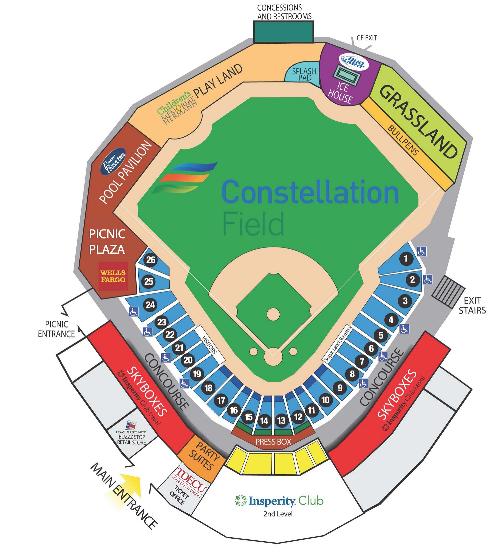 When choosing your seats, please note that Seat 1 is on the right side of the aisle (closest to Section 1) and Row A is closest to the field. Sections 9-18 are behind the protective net.
Ticket Prices
Insperity Club - $45.00 (Includes access to our indoor, air-conditioned Insperity Club and gourment buffet. Menu starts when gates open.)
Imperial Box - $30.00
Picnic Pavilion -

Monday - Tuesday $25.00 All-You-Can-Eat-Tickets (Open every Monday and Tuesday game; menu features hotdogs, burgers, and nachos)
Wednesday - Sunday $38.00 adult and $36.00 children (Includes a 2-hour BBQ themed buffet & access to the swimming pool. Menu starts when gates open. Open on select games - call TDECU Ticket Office for more information.)

Rouxpour Diamond Deck - $25.00
Field Box - $14.00 advance/$15.00 on day of game
Grassland - $8.00 advance/$9.00 on day of game (You may bring lawn chairs and blankets)

Weekly Ticket Promotions:
Mondays - Military/First Responders Monday - Free field box ticket with Military ID, Veterans card, or First Responders badge/ID
Every Game -

3 and Under are free lap ticket if they sit on an adult's lap
Kids under 12 receive a free grassland ticket when wearing their little league uniform.
Texas Farm Bureau - receive 2 free tickets to any game with membership card (only redeemable in the TDECU Ticket Office)

For Your Information:
- Gates open one hour before scheduled first pitch.
- For Sugar Land Skeeters games, parking is $5 per vehicle. Current Military and Veterans park for free by showing a valid ID or with state issued plates.
- All game times and promotions subject to change without notice.
- Any questions about this event please call the TDECU Ticket Office at 281-240-4487

CONVENIENCE CHARGE: $1.00 per ticket charge will be assessed at checkout.

NOTICE: All sales are final. Includes taxes and applicable fees. No refunds. No exchanges. Check date and seat locations very carefully before purchasing.
Sugar Land Skeeters
2019 Sugar Land Skeeters Baseball
Constellation Field
Sugar Land, TX USA 77498
281-240-4487