New Hampshire Fisher Cats vs Reading Fightin Phils on 5/29/2017 Tickets
Date/Time:
Mon, May 29 2017 at 1:35 PM
Home Team:
New Hampshire Fisher Cats
Opponent:
Reading Fightin Phils
Event Info:
Venue:
Northeast Delta Dental Stadium
Move your cursor over the venue image to check ticket availability.
Clicking on the

icon will show you a photograph from that part of the venue.

Clicking on the

icon will allow you to view/select seats.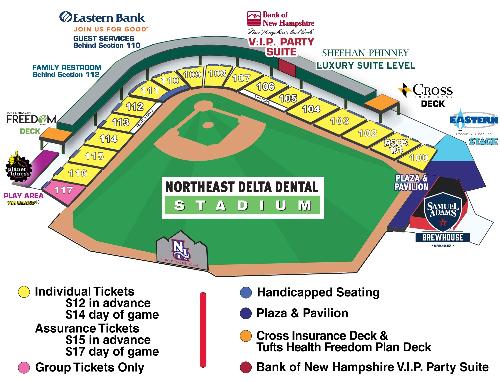 Fisher Cats Assurance Ticket Program: When you purchase a Fisher Cats Assurance Ticket you are purchasing a fully transferable ticket. This a great option if you think your plans or numbers may change, but you want to get great seats now. Your tickets are fully transferable to any other game at any time prior to or after the game, providing the ticket has not yet been used.
Don't forget to purchase your parking pass ahead of time. The Fisher Cats VIP Parking is the lot closest to the ballpark and spots are also available at the neighboring Langer Parking lot.
On games with an Atlas Fireworks Show, sections 116 and 117 will be cleared late in the game to allow the fireworks show to take place.
If you purchase your tickets in conjunction with a special offer code, you will pick up the associated certificates/tickets at the Ticket Office.
New Hampshire Fisher Cats
New Hampshire Fisher Cats
Northeast Delta Dental Stadium
Manchester, NH US 03101
603-641-2005
info@nhfishercats.com