Charlotte 49ers Football vs Gardner-Webb on 8/29/2019
Date/Time:
Thu, Aug 29 2019 at 7:30 PM
Home Team:
Charlotte 49ers Football
Opponent:
Gardner-Webb
Event Info:
Venue:
Jerry Richardson Stadium
Move your cursor over the venue image to check ticket availability.
Clicking on the

icon will show you a photograph from that part of the venue.

Clicking on the

icon will allow you to view/select seats.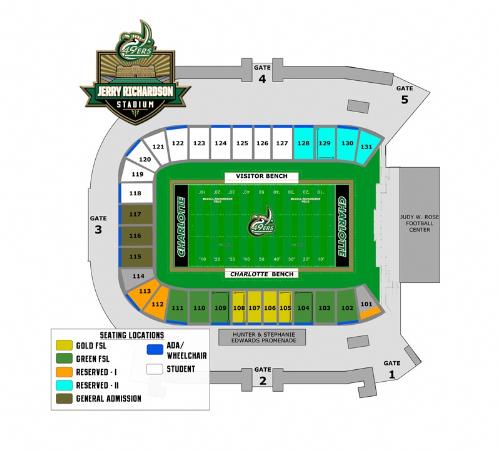 SPECIAL NOTES:
Extra Point Package- For only $65, fans can purchase this package which will include a minimum of 4 General Admission or Reserved II tickets, food vouchers and one(1) parking pass. Food vouchers will be available for pick up at will call on the day of the game. Parking passes will be emailed to the address associated with your Ticket Return account the week of the game. Extra point packages must be purchased by8/27/19 at 12:00pm using code EXTRAPT.
For instructions on how to manage your tickets online, click here. Please note if you are a season ticket holder and will be receiving a ticket book in August, any tickets printed, transferred or donated will deactivate the tickets in the book and they will no longer be valid for use.
Seat numbers labeled with an asterisk in Row 23 of each section are designated for wheelchair accessible seating. There is no fixed stadium seat at this designated location. For further information on ADA seating options, please contact the ticket office at 704-687-4949.
General Admission tickets are valid for seating in Sections 115 through 117 (Must have general admission ticket for this location). Seating is based on first come first serve availability.
Gates open 1 1/2 hours prior to kick-off.
Need assistance with your game-day tailgate? Click here to schedule your next game with Tailgate Guys!
Children 2 years of age or younger will not require a ticket for admission. However, children 2 years of age or younger are required to sit on the lap of their parent/guardian and are not permitted to occupy an additional seat. If the child will require a seat of their own, a seat must be purchased.
Group Tickets: Contact 704-687-4849 for information about discounted rates for groups of 15 or more!
Secondary Market Tickets - NOTICE: Tickets sold and/or purchased from sites other than TicketReturn.com are not the responsibility of the Charlotte 49ers Ticket Office. Tickets cannot be researched, reprinted or handled at the Ticket Office.
All sales are final. No refunds or exchanges.