Wilmington Blue Rocks vs TBD on 9/10/2019
Date/Time:
Tue, Sep 10 2019 at 6:35 PM
Home Team:
Wilmington Blue Rocks
Opponent:
TBD
Move your cursor over the venue image to check ticket availability.
Clicking on the

icon will allow you to view/select seats.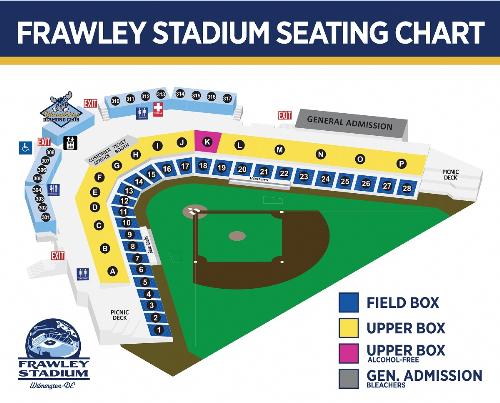 Once tickets are purchased, they are

NON-REFUNDABLE and NON-TRANSFERABLE.

Senior pricing is ONLY AVAILABLE for purchase IN-PERSON..

Children's tickets (12 and under) for 2019 Wilmington Blue Rocks home playoff games are complimentary, but each child still requires a ticket. Please contact us at 302-888-BLUE for assistance.

For Military and First Responder ticket discounts, please visit www.milb.com/wilmington/tickets/military or www.GOVX.com.

RAIN CHECK: If a game is called due to rain or any other factor prior to the completion of an official game (4 1/2 innings if the Blue Rocks are winning or 5 innings if the Blue Rocks are losing), fans may exchange their tickets for any Blue Rocks regular season home game played within the 2019 Season.

GAME LOCATION: Wilmington Blue Rocks home games are played in the state of DELAWARE. By purchasing Blue Rocks tickets, fans are confirming that they are going to be in the greater Wilmington, DE area during the date of their selected game. Please be aware of this before proceeding to checkout, as tickets are non-refundable and non-transferable.
Wilmington Blue Rocks
Wilmington Blue Rocks - 2019 Playoffs
801 Shipyard Drive
Wilmington, DE USA 19801
302-888-2583