Bowie Baysox vs Erie SeaWolves on 8/18/2017
Date/Time:
Fri, Aug 18 2017 at 7:05 PM
Home Team:
Bowie Baysox
Opponent:
Erie SeaWolves
Event Info:
Move your cursor over the venue image to check ticket availability.
Clicking on the

icon will allow you to view/select seats.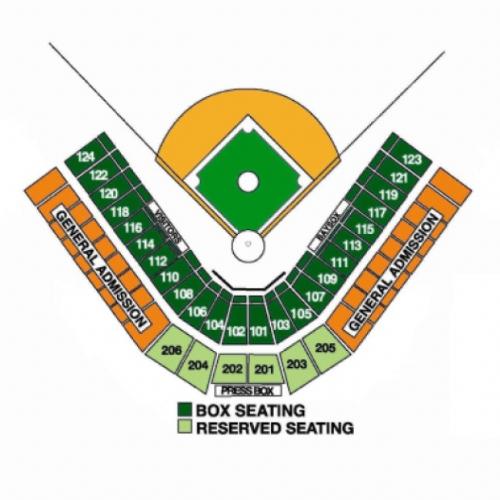 Welcome to the Home of the Bowie Baysox presented by Money One Federal Credit Union!
Celebrating our 25th season as a PROUD Affiliate of the Baltimore Orioles!

Come join us for FIREWORKS! Tonight's show is presented by Educational Systems Federal Credit Union.

ESFCU is also pleased to present SUMMER READING NIGHT! Plan on arriving early to help us recognize the children who have participated in this year's program. There will be a special on-field ceremony prior to tonight's game.

PLEASE NOTE: The Special Offer Code for Summer Reading tickets ends as of 11:59pm onThursday, August 17. Discounted tickets are unfortunately not available on the day of the game.

Ziggy played guitar... Join us as we honor what would have been the 70th Birthday of legendary rocker David Bowie! He may be gone, but we hold a special place in our hearts for the Starman who shares the heteronym last name of our hometown team! It is sure to be a fun night fillled with a David Bowie themed jersey auction, music and more!

Let your light SHINE! Take part in our Glow in the Park event! The first 3,000 fans age 3 and older into the Ballpark will receive a FREE Glow Stick to help light up the night!

Gates open 6:00pm. Pre-game ceremonies begin approximately 6:30pm. Baysox game time is 7:055pm.

Your tickets are valid for the game date that they are purchased for ONLY.

If you think that your plans may change, please consider adding ASSURANCE. Assurance will allow you to change the date of your tickets ONE time if for any reason you are unable to attend your initially chosen game. ASSURANCE must be added at the time tickets are first purchased and cannot be added after the transaction is complete. ASSURANCE is not refundable if it is not used.

Tickets purchased using a SPECIAL OFFER/PROMO CODE are valid for the game date they are purchased for ONLY and are not eligible for added ASSURANCE.

SAVE TIME AND MONEY by purchasing your tickets IN ADVANCE! Game Day pricing takes effect at 12:00 midnight the day of a scheduled game. Save money by purchasing your tickets ahead of time!

Come to more than one game a season? Our FLEXIBLE ticket plans can save you even more! Log on to our website at www.baysox.com or stop by Fan Assistance during your next game for more information.

If you have any children age 2 and under attending the game with you, they do receive a FREE general admission ticket to the game, which you may pick up right at the gate. In the BOX and RESERVED sections, children 2 and under are considered "lap children" and are not assigned an actual seat. If your child will require a seat of their own, you will need to purchase a seat for them.

Parking is FREE!

NO OUTSIDE FOOD OR DRINK PERMITTED INSIDE PRINCE GEORGE'S STADIUM.

TICKETS ARE NOT REFUNDABLE ONCE PURCHASED.

Web and Phone Sales end 4 hour prior to scheduled game time. Tickets may be purchased at our Box Office Windows through the Top of the 7th inning of today's game.

Tickets purchased more than 14 days prior to the event date will automatically be mailed to the address provided during the ordering process. Tickets purchased less than 14 days in advance will be available for pick up at the Box Office Will Call on the day of the event. Please have photo ID available when picking up your tickets.

Print your tickets AT HOME! Your purchased tickets will automatically be sent to our Box Office. If you would prefer to print your tickets at home, select PRINT-AT-HOME under Ticket Delivery Options. Bring your printed ticket right to the Gates and by pass our Box Office on game day! (Tickets MUST be printed in advance. Our system does not currrently support mobile devices.)

If you are using a SPECIAL OFFER/PROMO CODE please enter it above using ALL CAPITAL LETTERS (no spaces) and hit "submit" to see your offer. Special Offer/Promo Codes are available online ONLY and will not be honored at our Box Office.

For questions concerning a ticket order, please contact our Box Office at (301) 464-4865.

PLEASE NOTE: A $1.50 per ticket web processing fee will be added at time of checkout.
Bowie Baysox Baseball
Bowie Baysox Baseball
at Bowie Baysox Prince George's Stadium
Bowie, MD 20716
301 805 6000
info@baysox.com